私たちが Status Board をリリースしてから約1日が経ちました。驚くべきことに、既にたくさんの人々の手によって非常に多くのクールで役立つパネルが作成されています。
ここに偉大な数々をご紹介します。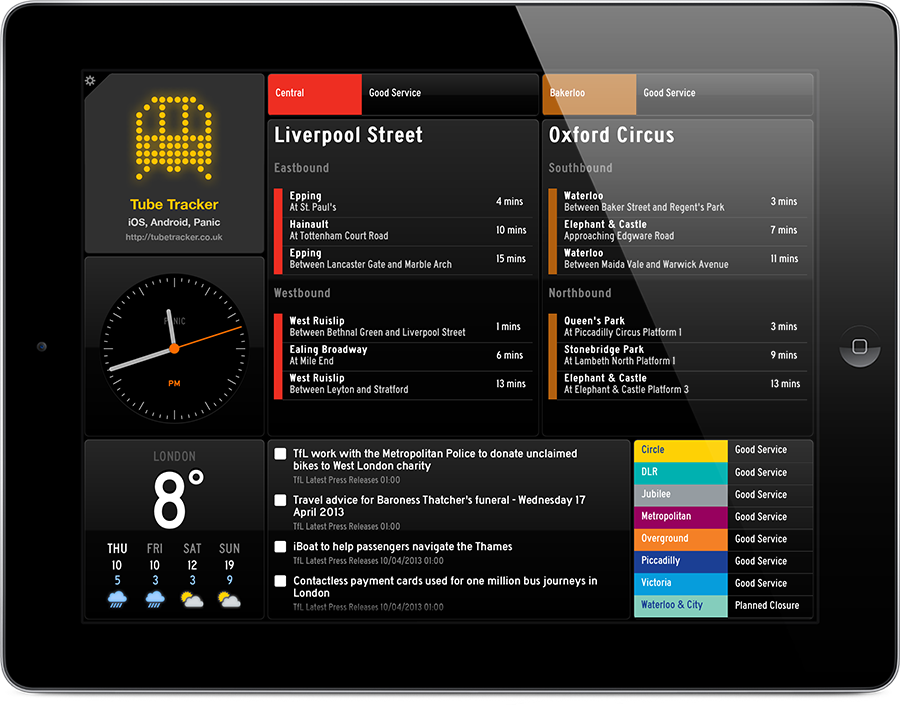 Dead Simple Greatness. クリックするだけで追加完了:
TubeTracker — an incredible one-click layout for people in the UK who rely on the tube (pictured above)

AAPL — simple module for Apple's stock price (don't follow too closely or you'll go crazy)
LastFM — see your last-listened track
App Store Review Times —  a great way to see how busy Apple is
WWDC Alert — but really, how fast are tickets going to sell out this year
Bart Arrival Times — for those of you in San Francisco
New Native Sources. 情報の供給元によって Status Board の為に準備されました:
LeafPing — output your Envato sales data to Status Board. An example.
uri.lv — track your podcast statistics on the big screen.
AppViz — this must-have app for App Store sales tracking can now output to Status Board
Sources/Conduits. 動作には少々のコーディングが必要となります:
(And you can always add a new Do-It-Yourself widget and point it to always-running Mario.)
さらにファンタスティックな Web サービスが Status Board でネイティブに利用可能になるようです。詳しくは後日お知らせします!
また、オフィシャルではありませんが 以下のまとめサイトもご紹介します: Pinboard, StatusBoardWidgets.com, StatusBoardApp.info.
最後に、私たちは Status Board が実際に活躍している写真が大好きです!こちらはバイクメーカー Ducati のディーラー: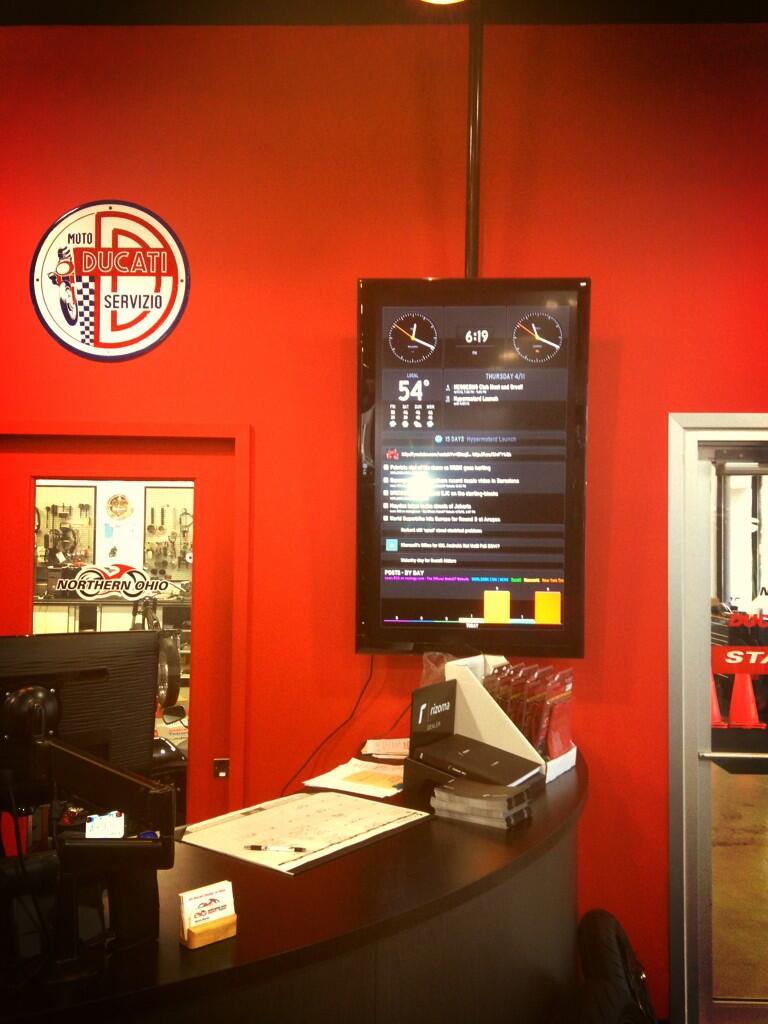 あなたのセットアップを @panic や @panicjapan を付けてツイートしたりメールでお知らせください!
また日本のサービスに対応したウィジェットに期待しています!
[原文]